Press Clips
Reviews of "Songs from the Alan Lomax Collection"
Americana takes a twisted turn in the hands of the clarinetist Andy Biskin, whose 16 Tons ensemble pays tribute to Alan Lomax, the pioneering musicologist who brought a host of now immortal folk songs to public light. With the assistance of a drummer and three trumpeters, Biskin will give a good shake to such favorites as "She'll Be Comin' Round the Mountain" and "Sweet Betsy from Pike."
—Steve Futterman, The New Yorker
Andy Biskin has long had a knack for making musical connections that look unlikely from a distance but almost inevitable up close. A clarinetist, composer and arranger of thoughtful disposition, he has just released Songs From the Lomax Collection, an album of rearranged tunes drawn from Alan Lomax's landmark 1960 anthology, The Folk Songs of North America. Biskin has a genuine connection not only to the material but also to the man: his first job out of Yale was as one of Lomax's research assistants. So a project of this scope feels almost overdue, though it's clear that Biskin has deliberated for a reason, personalizing the songs to suit his ensemble 16 Tons, which pairs him with three trumpeters and a drummer.
The balance of care and whimsy in Biskin's approach is fully evident on his version of "Blue Tail Fly," the minstrel song perhaps better known by the first line of its refrain, "Jimmy crack corn and I don't care." It opens with a lone, beckoning preface on clarinet, and gathers momentum in stages as each of the trumpeters — John Carlson, Dave Smith and Kenny Warren — joins the party, and adds his own solo flair. Rob Garcia brings the beat, driving the ensemble like a little big band. (Don't miss the passing nod to Thelonious Monk around four minutes in.)
—Nate Chinen, WBGO
Andy Biskin's quintet called 16 Tons has an odd, lopsided instrumentation - clarinet, drums and three trumpets. Drummer Rob Garcia sometimes punctuates from a distance, and sometimes, he's the whole swinging rhythm section. Brassmen Kenny Warren, Dave Smith and John Carlson variously evoke jazz and rock horn sections, the Tijuana Brass, the field band from a very small high school or Aaron Copland night at Symphony Hall
When sophisticated musicians play traditional ditties that have only two or three chords, there's always the danger things can get a little cute. "Comin' Round The Mountain" is as close to the brink as Andy Biskin gets. His good taste pulls him back. He injects some of his own material to complicate things in a good way and has instruments pop in and out, recombining within a piece. The players get into the spirit of the material. There are echoes of congregational singing, where a leader lines out the verses and the unison responses can get a little loose.
The album "Songs From The Alan Lomax Collection" is homespun music with a well-rounded education.
—Kevin Whitehead, Fresh Air
What stands out here is the way he blends the trumpet voices on pieces like "Sweet Betsy from Pike" and "House Carpenter," and creates dialogue between them on "Down in the Valley." As he sets out in artistic statement of purpose, the horns pass the melodies and harmonic asides between them, Biskin's sonorous bass clarinet contrasted against the brass trio. In solo passages, the trumpet voices of John Carlson, Dave Smith, and Kenny Warren are distinctive enough to stand apart from one another. This is most effective on the anthemic "Lily Munroe," a song that has been repurposed as "Jack-A-Roe" by the Grateful Dead and as the stirring labor union theme, "Which Side Are You On?"
Biskin's approach is open enough that he interpolates his own improvisations, emphasizes rhythmic movements, and injects other ideas, to the extent that some of the songs take on entirely new personalities. The most evident of these is "Tom Dooley," whose root is a lament for a doomed prisoner. Here, the energetic drumming of Rob Garcia and raucous horn lines take their inspiration from both a 1929 rendition and the university campus hootenanny version popularized by The Kingston Trio 30 years later.
At the other end of the spectrum is "Am I Born to Die?," an 1817 hymn whose four-part harmony is carried across two centuries, and sounds no less powerful for the journey. It is one of those songs, like Blind Willie Johnson's "Dark Was the Night, Cold Was the Ground," that strikes so close to the human condition that it is truly timeless. Biskin's insight is keen enough that he recognizes it and retains its purity.
The overarching power of this set of songs is the familiarity of compositions like "Blue Tail Fly" (also known as "Jimmy Crack Corn") and "She'll Be Comin' Round the Mountain," and the freedom Biskin takes in his approach to them, utilizing what he's learned from various recorded versions and his own history with them as favorites of his own family.
—James Hale, SoundStage Network
Biskin breathes new life into these classic songs, including ones deeply ingrained in the American musical DNA, such as "She'll Be Coming Around the Mountain" and "Blue Tail Fly" (also known as "Jimmy Crack Corn"). Part of that is the result of a non-traditional lineup. Joining Biskin's clarinet and bass clarinet are three trumpets and a drummer. "It was the most efficient, smallest combination of instruments to convey the idea of a leader and a chorus that sounded different, where I could be the call and they could be the response," Biskin explains. Even without a vocalist, there's a singing quality to the arrangements.
To find the material he wanted, Biskin pored through Lomax's seminal book The Folk Songs of North America. He also took extensive liberties with the music; the familiar melodies are there, but you often have to travel through a variety of detours to reach them.
"Some of these songs have hundreds of versions," Biskin says. "I would try to let these versions coexist within the arrangement so that there would be sort of a conversation going on between them, like they would be fighting to see which was the real version of the melody. And just to shake things up even more, I would write a countermelody that was related. That was something I never tried to do before with other projects."
Biskin says his approach was similar to the way Lomax would throw himself into a community to discover music that few people had heard before. In that sense, this project was a way of coming full circle, but it was also something more. "I've paid homage to this material," Biskin says, "but I've also benefitted because it woke something up in me that I didn't know was there."
—John Frederick Moore, Jazziz
In 1960 Lomax published 317 songs in the anthology, The Folk Songs of North America, the source of inspiration for Biskin, a former research assistant to Lomax in the mid-1970s. While steeped in modern jazz, Biskin, (like Bill Frisell), has always been partial to Americana. He recorded Early American: The Melodies of Stephen Foster, and he seems to ooze folk music, from blues to polkas, New Orleans brass, and funk. He is, perhaps, the modern equivalent to Carl Stalling, the man who scored most of Warner Brother's animated classic cartoons.
With his ensemble 16 Tons, he reimagines American folk with three trumpets and a drummer. This opens up the interactions between players and harkens back to early 20th century folk recordings where the bass could not be captured to phonograph cylinders. What is captured here is the jubilation and triumph of a people's spirit. The grace of "Sweet Betsy from Pike" gives way to the sly children's song "Grey Goose." His interpretations pass through a jazz artist's lens, slipping quotes from familiar songs (dig a reference to Thelonious Monk on "Blue Tail Fly") into the mix. Like Bugs Bunny singing Wagner or Rossini, Biskin makes tradition palatable, even tasty. Highlights include a bubbly take on the murder/revenge song "Tom Dooley," the Raymond Scott-inspired precise "Muskrat," a straight take of the spiritual "Am I Born to Die?," and a get-up-and-dance version of "She'll Be Comin' Round the Mountain." If Biskin's undertaking is to wipe our blues away, mission accomplished.
—Mark Corroto, All About Jazz
The quintet instills a surfeit of melodic and expressive content to satisfy a broad listening base via intricate arrangements, executed with finesse and the utmost agility. "House Carpenter" is etched on a gorgeous theme, radiated by Biskin's eloquent lines and a shifting horns vamp amid polytonal sound designs and Garcia's shiny cymbals treatments. Many of these pieces are enacted with rapid movements and unanticipated bypasses and reinventions of a given theme, due to the soloists' feisty improv segments.
Diversity and the band's keen ability to reimagine tuneful Americana is evident during "Knock John Booker," which is an African-American children's game song originally recorded by Aunt Molly McDonald on an Alabama farm in 1940. Here, the quintet homogenizes this song into a ballsy and triumphant shaker and mover.
Once again, Biskin batters preconceived borders with refreshing sounds and a nouveau approach to some of the unlikeliest candidates to be represented within the jazz canon. *A top pick for 2018…
—Glenn Astarita, All About Jazz
So many highlights throughout the album. The 1817 gospel tune "Am I Born To Die" has a haunting melody, lovely harmonies, and a martial beat that links it to the early days of the American republic. The plaintive melody of "House Carpenter" starts slowly but the middle section "rocks out" for a few moments around solo clarinet melodic fills. "Down in the Valley" has moments that sound like Copland's "Appalachian Spring"; the splay and trills of the muted trumpets, Biskin's mournful clarinet, and Garcia's strong brushes and bass drum work stand out. "Tom Dooley" is a bouncy piece considering the sadness of the story. Here the song moves with great spirit.
"16 Tons" closes with a solo clarinet reprise of "Sweet Betsy From Bike", a gentle send-off to an album that is full of splendid performances, humor, emotion, melodies, harmonies, and fascinating rhythms. Andy Biskin continues to create music that, even as it embraces its roots, pushes against convention and cliche.
—Richard Kamins, Step Tempest
Clarinetist/bass clarinetist Andy Biskin turns the page, translating folk melody into an imaginative jazz setting. He upholds the purity of the indelible melodies and his 16 Tons quintet create an intriguing improvisational world for them to find new life. Biskin has found the perfect fount for the wealth of roots music here. Highlights include the frolicking "Muskrat" (a children's song), the sobering beauty of "Am I Born to Die?" (a hymn from the sacred harp shape-note tradition), the brilliantly arranged North Carolina folk tune "Tom Dooley" about infidelity, revenge and ultimately murder, and the chugging thrill ride through "She'll Be Coming Around the Mountain."
—Dan Ouellette, ZEALnyc
These folk songs (and one folky original by Biskin) may seem like unlikely vehicles for improvisation. But canny arranger and conceptualist that he is, he gets everything to work much better than you might expect. Just about anyone who spends time with this disc will recognize at least a few of these songs. Many of them, after all, were learned and sung in elementary school, and that knowledge provides an internal hook for these renditions. The rest is up to Biskin and his focused group of collaborators. Drummer Rob Garcia acquits himself very well in this unconventional setup, playing with vigorous flair. The trumpet "choir" of Dave Smith, John Carlson, and Kenny Warren blends beautifully, a bright and supportive wall of brass that provides a contrast to Biskin's woody clarinet and bass clarinet. 16 Tons is almost guaranteed to put a smile on your face. Happily recommended.
—Stuart Kremsky, Mr. Stu's Record Room
Andy Biskin aims to bring back the rural ferocity on these tunes. He reinterprets the bedrock melodies with a hearty dose of improvisation and does so with unusual instrumentation. Biskin and company have created a post-modern CD that swings as well as surprises. And the end result is guaranteed you make you hear these ditties with a freshness and perception previously never ascribed to them.
—Ken Waxman, JazzWord
Reviews of "Act Necessary"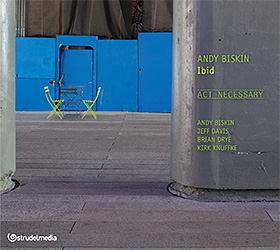 Composers like the melodiously rich, spry and crafty clarinetist Andy Biskin [make New York City's] palette even deeper by balancing out the fray with an equally intrepid, yet contrasting, vision…. Biskin has assembled a powerhouse unit with cornetist Kirk Knuffke, trombonist Brian Drye and drummer Jeff Davis…. While Biskin receives top billing as Ibid's brain trust, Act Necessary presents a group of equals brimming with flawless interaction.
—Brad Cohan, New York City Jazz Record
Act Necessary may be Biskin's most light-hearted release to date while also achieving his finest balance of reverence and iconoclasm. With his quartet, Ibid, Biskin has consciously chosen to embrace the open-spaced possibilities of the bass-less format rather than thinking about ways to supplant the "missing" part. The band nails that goal brilliantly, interacting with an open clarity of texture and a footloose freedom that swings in its own way…. They manage to find lyricism and rhythmic ease even within the knottiest of segments and they revel in the joie-de-vivre. It's a Chaplin-esque ensemble: At one moment they're profound, at the next they proudly take a pratfall.
—Jeff Potter, Downbeat (4 stars)
His original idea for this group was a chamber jazz thing with three horns and bass, but when he replaced the bassist with a drummer the music opened up. Sure did. Helps that the drummer is Jeff Davis, and the brass contrast is provided by Kirk Knuffke (cornet) and Brian Drye (trombone), but no one made more of the freedom than the leader. (Chosen as one the best albums of 2014)
—Tom Hull
It's a quirky group, playing some appropriately zany tunes, to the point where, if you close your eyes for certain tracks, it's easy to picture a tiny cartoon marching band dancing its way across your field of vision. Such a lighthearted style—definitely Biskin's forte, as evidenced by his extremely successful Goldberg's Variations—which includes a deft fusion of New Orleans jazz, Tin Pan Alley, funk, and yes, polka, gives the music healthy doses of spirit and groove.
—Alexandra Gardner, New Music Box
One of the finest clarinetists working in any musical field these days, Biskin has recruited a group of similarly accomplished young, risk-taking musicians to populate Ibid.… Biskin may not be prolific, but every single one of his albums has been a true musical adventure. Like Rube Goldberg's fantastic and creations, Andy Biskin's music seems improbable and ungainly but ultimately tickles and teases the brain by actually being deeply elegant and well thought-out; not to mention amazingly well-executed.
—Dave Wayne, All About Jazz
He's an artist who stands out among his peers as he goes against the grain, while always mingling wit and whimsy into his overall musicality. Biskin's amiable and bubbly clarinet work forges an entryway into off-center rhythmic exercises amid a good-timey vibe; however, his music is not saccharine or schmaltzy. And he employs an all-star unit on this bass-less endeavor as he unifies old school jazz values, happy grooves and edgy overtones with shrewdly concocted modern jazz frameworks into the grand schema.
—Glenn Astarita, All About Jazz
Act Necessary captures the ears and the mind from the opening notes, not letting go until the whirling melody of "Annie's Day" fades. Afterwards, this music resonates. One wants to return to each song to pay attention to how the clarinet and brass wraps itself around the drums, how Jeff Davis supports and pushes the music, and how the soloists make such succinct but satisfying statements. Andy Biskin may not be a prolific recording artist but he certainly creates captivating music each time out.
—Richard Kamins, Step Tempest
This album plays out like each musician is attempting to recount a dream they had about performing New Orleans jazz, tin pan alley, swing, blues, and polkas… with each member of the quartet vividly channeling the dreams of early music forms, but now, awake and the dream fading, can't help but color the dream retelling with sounds and methods of the present day.
—David Sumner, Bird Is the Worm
Biskin's ten originals sustain a lighthearted appeal. The cornet and clarinet often establish a New Orleans-tinted front line, and the arrangements cheerily cavort from klezmer to polka forms, and from bop inclinations to marching band-shaded colorations. The opening title track has a flavorful flexibility which echoes both bop and traditional jazz. Think Sidney Bechet capering with J. J. Johnson.
—Doug Simpson, Audiophile Audition
Mr. Biskin, a clarinetist and composer with a sensibility both earnest and playful, slings stylistic citations shrewdly in Ibid, a responsive quartet with Kirk Knuffke on cornet, Brian Drye on trombone and Jeff Davis on drums.
—Nate Chinen, New York Times
Biskin's compositions are complex, moving through elaborate sequences that require each player to weave around the other two, but most still seem built with the intention of inspiring dancing, or at least foot-tapping and head-nodding, from the listener…. "The Titans" begins with long harmonized notes from Knuffke and Drye, but when Davis and Biskin come in, it becomes a kind of marching-band parade jazz, the kind of strut-around-the-living-room thing that would put a huge grin on a little kid's face. "Page 17," meanwhile, is a multi-part composition that sounds like a Raymond Scott re-orchestration of the music from Charles Mingus's "The Clown." This is an album that puts its contributors' virtuosic technique to good use, aiming to entertain rather than impress.
—Phil Freeman, Burning Ambulance
Reviews of "Early American"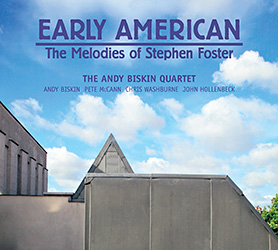 Someone figured to dedicate an entire album to Stephen Foster sooner or later, and clarinetist Andy Biskin's Early American makes you wonder why it took so long. Biskin proves the innate dignity of songs like "Old Black Joe" and "Old Folks at Home" rests in their melodies. The only hint of stiff-legged parody is on the wonderful "There's a Good Time Coming," with its delirious eruptions of polka, klezmer, and Mahavishnu-like distortion and fuzz.
Everything on Early American, including an abstracted "Beautiful Dreamer" and a handful of originals more or less in the Foster manner (the most robust a bumping blues called "Thin King Thinking"), attests to Biskin's admiration for this vintage material, despite his cheeky approach to it.
—Francis Davis, The Village Voice (10 Best CDs of 2006)
Andy Biskin seeks to find the threads between old European folk music, early American songforms and the contemporary avant-garde. Biskin's Stephen Foster songbook grew from interpreting "Jeanie With The Light Brown Hair" cold on the bandstand. It sparked something in the way he'd been composing for his regular quartet, and the result was this mix of Foster interpretations and original compositions. Biskin's quartet twists them so that parts of "Camptown Races" sounds like Burt Bacharach, "Hard Times Come Again No More" becomes a Civil War dirge march and "There's A Good Time Coming" morphs into a funky boogaloo with Pete McCann's guitar wailing overhead.
His own six pieces also reach back into the 1800s and snap forward to the present. The title track treads the line between ragtime and klezmer, with Chris Washburne's trombone and John Hollenbeck's ricky-tick drumming propelling the tune forward like an old jitney. "Kid Proof" clatters into Raymond Scott territory, and winds up with McCann creating chaos. That it's only a minor step from there to a music box rendition of Foster's "Old Folks At Home" makes Biskin's point that all this stuff — as diverse as it appears — is cut from the same cloth.
—James Hale, Downbeat (Four-star review, 10 Best CDs of 2006)
Foster's melodies have existed in our culture for so long that they're practically part of the American landscape. Biskin's arrangements honor their lineage while showing how durable they are, letting utterly familiar songs like "Oh! Susanna" and "Jeanie with the Light Brown Hair" sound freshly minted. The new writing serves to show how clean, melodic lines can be embraced in unabashedly modern, though never dissonant, ways.
—David Greenberger, Signal to Noise Magazine
The musicians combine assertive musical forces with Foster's original themes. In the process, they turn the clock forward to collect many of the changes that have taken place since the 19th Century composer's lifetime. Dixieland, bebop, gospel, country and swing enter the picture, interspersed with collective improvisation that runs free and wild. Tuba, electric guitar, wiry percussion and a hot clarinet give the picture plenty of fire. In the process, they reach back and assist Foster in forming impressions of a Southern lifestyle that needed closer examination. I'm not so sure that Stephen Foster succeeded in that mission, but Andy Biskin and his quartet certainly do. They've given us plenty to think about.
Biskin's six originals carry out the same kind of enthusiasm without Foster's memorable melodies. His music is energetic, creative, and at the leading edge of jazz's modern mainstream. Recommended for all ages, Biskin's music puts a smile on the face of modern jazz.
—Jim Santella, All About Jazz
Mixing mania and melancholy in a rather uncanny way, the clarinet player brings a new vibe to Stephen Foster's nuggets on the recent Early American. A gleeful modernist, his arrangements have no problem giving the material a hotfoot while still allowing their melodies and sentiment to radiate.
—Jim Macnie, The Village Voice
Favorite moments include Pete McCann's eloquent solo over John Hollenbeck's pointillistic percussion on "Camptown Races," the hayseed hoedown on "Oh! Susanna," McCann's ultra-twangy banjo on "Nelly Bly," the ever-changing rhythms and churning motion of "Old Folks At Home" and "Old Black Joe," and the airy floating reharmonization of "Beautiful Dreamer."
By the time you get to the funky throwdown section of "There's a Good Time Coming," even McCann's metalloid guitar solo seems completely appropriate. Throughout it all, Biskin's band is tight beyond belief. Biskin, percussionist Hollenbeck, guitarist McCann, and low brass virtuoso Chris Washburne make so many impressive and inspired musical choices throughout the CD that they cannot be enumerated in the space of a single review. Biskin's original pieces synthesize 19th Century Americana, klezmer-like instrumentation, and generous dollops of naughty, quirky modern jazz shenanigans that mesh seamlessly with his Foster interpretations.
More than yet another tribute album, Early American is a colorful, vibrant, risk-taking musical adventure that brings Stephen Foster's oeuvre to life in a wholly unexpected way.
—David Wayne, JazzReview.com
Clarinetist Andy Biskin's 2000 debut, Dogmental, unequivocally announced a major jazz vision akin to Don Byron's; one that considers polka, Charles Ives, and Charles Mingus as equally inspiring voices. With this pair of releases, Biskin goes in two related directions at once.
Early American embraces fully a long-tone look at Foster's tunes, genuflecting at points and finding all kinds of space to improvise and rattle the original melodies loose — especially on "Camptown Races," which has McCann shining on some bent-string extensions that are both honest to the piece and bluesy in a mellow, raggedy manner. This is a fabulous example of how a composer today can play the familiar and play with it, changing it to fit the energy. "Nelly Bly" has a nervy edge to it, folksy with McCann's banjo but also rustled ever so creatively. Biskin spreads six of his own tracks through the album, and they are each overflowing with colors, all coming from a band built around a fairly unlikely source for post-bop playing.
—Andrew Bartlett, Coda
Early American seems a logical continuation of the geographically loaded "mashup" that typifies Biskin's musical approach. The disc exudes American whimsy; American music, in all its stereotypically rhetorical glory, is certainly present, but the listener is also taken deep into the melting pot in some unlikely circumstances. "Camptown Races" is a festering microhistory, augmenting what begins as a simple melodic statement with some decidedly R & B drums, brushstroked to perfection. A side-trip through planing impressionistic harmonies leads, ultimately, to a bit of Bossa Nova as Biskin alludes to "When the Saints Go Marching In"; it's all done so simply, in such a straight-forward manner, that several listens are needed to catch the references as they go by.
The Biskin originals here are perfect foils, feeding on the past while skirting it, delving into rock and blues with ease and dexterity, even a little Ivesian polytonality thrown in for good measure. Nothing on the disc is likely to cause excessive surprise or revolution, such is the comfort and gentleness with which Biskin pushes, or nudges, boundaries.
—Marc Medwin, Cadence
The goals of Mr. Biskin's project are impossible, but straightforward: to create modern jazz utilizing clarinet, tuba, banjo, and Foster's Civil War-era melodies. Mr. Biskin employs the instrumentation of a Dixieland band, and plays tunes that would have seemed old fashioned even to Dixielanders. But it's also remarkably modern: The group's use of guitar or banjo as a chordal instrument in place of the piano, juxtaposed against the leader's expressive, ashen-toned clarinet, gives the project a feel more akin to postmodernists such as Jimmy Giuffre or Tony Scott. (The use of Bill Frisell-like sound washes on Mr. Biskin's liberally rewritten "Camptown Races" might lead one to guess that this was one of the Paul Motian-Joe Lovano groups playing Foster's music in a blindfold test.)
Mr. Biskin has interwoven these freshly conceived two horn-two rhythm arrangements of Foster classics with his own originals, which seem like responses to Foster's melodies as well as interpretations of the mature American vernacular style that Foster's music ultimately led to. "Fits and Starts," for instance, is an odd-meter funk number that Raymond Scott could have written for a New Orleans brass band.
Mr. Biskin may reinterpret Foster's tunes, but he never subverts them or alters their meanings, and in letting "Oh! Susanna" be alternately wistful and jaunty, or in letting "Beautiful Dreamer," in which the melody is played by trombonist Chris Washburne, be haunting and lyrical, he shows us that Foster's mid-19th century hits still have much to say.
—Will Friedwald, New York Sun
Reviews of Andy Biskin
"While the clarinet may not be experiencing a full-bore resurgence, it certainly appears in jazz circles with increasing frequency these days. Biskin was ahead of the curve, long gifted at balancing his musical-Americana fixation with side trips into regions unexplored." –The New Yorker
Fresh Air Interview with Terri Gross
—Terri Gross, Fresh Air
Forbes FYI: Best Underappreciated Jazz Musician
Clarinetist Andy Biskin has been on the New York jazz scene since 1991, but he didn't get his big break until a few years ago, when he met music impresario Gunther Schuller on a Manhattan elevator. That chance encounter led to the recent release of his first album, Dogmental, a quirky, beautifully composed set of tunes that touch down all over the musical map. "Field Days" sounds like classic Ellington, while "Laughing Stock" could accompany a frenetic Tom and Jerry cartoon. "Sad Commentary" is a polka you might actually like. Perhaps Biskin's compositions are so varied because of where he finds them. "There are these little tunes floating around in the air," he says. "The trick is to get them down before they disappear."
Reviews of "Not So Fast"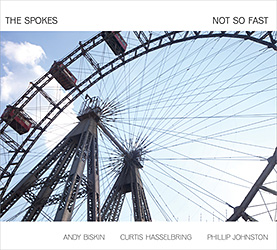 If there's a defining quality to Not So Fast, it's the remarkable fluency of the playing. Alternating between lighter-than-air harmonies and edgy counterpoint, the band engages in games of tag in which one member is sprung to run across the middle with the central theme. Hasselbring's uncommon agility on his instrument provides an exhilarating X factor: Good luck catching him. ....The band has imagination to burn.
—Lloyd Sachs, JazzTimes
The inevitable challenge facing a group like this is to stop the material becoming overly similar and narrow in its scope, and the Spokes leap those hurdles with ease. Sometimes the three horns sound like a New Orleans front line without a rhythm section, but more often there are hints of Eric Satie or early Frank Zappa, and a jazzy zaniness that is all their own. This is guileless, charming, and entertaining music that will make you feel a little better about the world.
—John Shand, Sydney Morning Herald
Reviews of "Trio Tragico"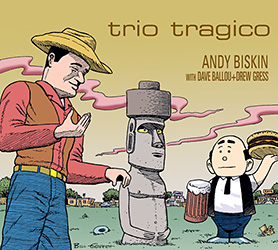 If today's fragmented jazz community resembled the fraternity it was during the classic periods of labels such as Blue Note and Contemporary, clarinetist Andy Biskin's compositions might be showing up on many albums besides his own. While not always self-consciously retro, his well-crafted miniatures recall a time when composer-instrumentalists like Gerry Mulligan and Joe Henderson were writing as adventurously as possible while maintaining an element of accessibility, something that Biskin accomplishes by lining up his contemporary ideas with what he's discovered about the past.
Trio Tragico is at once relaxed, ambitious and deceptive. It's a chamber-jazz record in the most veracious sense. But since this is bop, the rhythmic foundation is central even without a drummer. Bassist Drew Gress's pulsing lines shuttle between boogie-woogie, tango and even thinly veiled classical bowing, which frees the horns to follow each other into avant-harmonic territory when the feeling hits. It's the kind of thing that makes you listen more closely, to find out, say, where the written parts of the elegy "You That Knew Him" turn into improvisation.
—K. Leander Williams, Time Out New York
Trio Tragico offers a variety of redesigned song and dance forms. Biskin frequently sets his warm-toned clarinet against Dave Ballou's trumpet and Drew Gress' bass in three-part counterpoint, and pens multi-sectional, stop-and-start pieces that touch upon tango, waltz, polka, postbop, blues, and free resources. The trio has a compact, intimate feel more like a chamber group than a jazz band—there is an occasional jazz lilt if not outright swing, and if it feels initially that the soloists are constrained by their surroundings, the melodic curves and rhythmic juxtapositions challenge them to find solutions that are concise, poised, winsomely lyrical, and fit into the arrangements hand-in-glove.
—Art Lange, Point of Departure
On the surface, Biskin's 13 originals emit a strong bouquet of folksy chamber jazz, specifically the sort of hybridizations Jimmy Giuffre and Shorty Rogers were propagating at the close of the Fifties. Probe a bit deeper and the pastoralisms give way to a potent sense of contrapuntal acuity and marvelous degree of temerity. His compositions remind me of Steve Lacy's writing in the attention to repetition and periodic use of pinpoint darting heads.
—Derek Taylor, Bagatellen.com
The trio blends subtle improvisation and nuanced group interaction so seamlessly into Biskin's compositions that the dividing line between the two vanishes. With creative arrangements and stellar interplay, Trio Tragico invokes a broad sonic palette, bringing these enchanting pieces to life. Whether exploring tangos, marches, Dixieland, bebop or any number of early American song forms, Biskin's trio handles it all with respect and good humor.
—Troy Collins, All About Jazz
So just what do statues from a western tourist trap, a food chain, and Easter Island have to do with a CD of three-piece chamber jazz? I have no idea, but Andy Biskin's quirky cover art for his new release, Trio Tragico, aside, the clarinetist has assembled a collection of level-headed chamber jazz bon-bons. "I Should Talk," which at around six minutes is one of the longer tracks, is a paced musing between the three instrumentalists, each seeming to know when he should talk, as well as when he should just step off.
—Molly Sheridan, New Music Box
Trio Tragico consists exclusively of originals, the instrumentation invoking shades of the Giuffre Three in its 1950s incarnations. Similarly fast "radical" juxtapositions are constants, mostly giving rise to some severely twisted heads. "Still Busy" is a nobly savage case in point as it veers sharply, and a bit dangerously, from toe-tapping late 1920s proto-Swing to tritone infested Stravinsky-isms, all without so much as the bat of an eyelid. "I Think Not" sports some Monkish dyads, repeated almost to the smiling point, giving way at the last minute to beautifully accented counterpoint that still sparkles with mischief as the two melodists syncopate above Gress' stalwart walking. The playing is somehow relaxed but razor sharp, and the tunes are fun while providing just enough of a challenge to keep me coming back.
—Marc Medwin, Cadence
While clearly rooted in several types of jazz — everything from Duke and Benny Goodman to Ornette and Don Byron — the Trio's material also seems to draw a lot of inspiration from popular song (Kurt Weill, Tin Pan Alley, Broadway shows, etc.) as well as 20th Century European classical music. If this sounds a little too highbrow to be a truly enjoyable listening experience, Biskin's steadfast refusal to take himself too seriously adds an element of surprise, and puts a broad smile on the face of Trio Tragico's music.
—Dave Wayne, JazzReview.com
Biskin's writing lets the three players luxuriate in melodies that move from intimacy to expansiveness with ease. There's the casual stroll of "I Should Talk," the noir-ish "I Think Not," the reverential "You That Knew Him," and the Nino Rota inspired "Paging Mr. Yes." Owing to the sturdy engineering of this tripod, Biskin and his cohorts make do with the least amount of players, but it's all the pieces require.
—David Greenberger, Signal to Noise Magazine
Reviews of "Dogmental"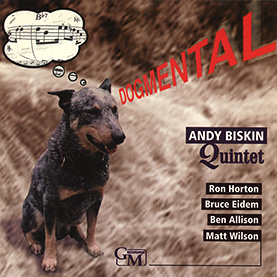 Album of the Week: It's hard to find gentle humor in jazz but the clarinetist Andy Biskin has perfect radar for it. Dogmental is full of short pieces that break down into contrapuntal arrangements and short, pungent solos; it's a sweet-tempered album that doesn't take itself too seriously but has a lot of hidden virtues. You can't say it's indicative of what jazz is up to or where it's going, but it's a little triumph nonetheless.
—Ben Ratliff, The New York Times
One clarinetist worth watching is Andy Biskin, as much for his composing as his playing. Andy Biskin's compositions tend to be light in tone, even a bit frothy at times, but they have real substance. Biskin is a good clarinet player too, with a full and liquid tone, and a knack for nimble phrasing. His style is appropriately slippery, in keeping with the way he writes. It's as if he picked through the rubble of collapsed buildings, collecting a door here, and a window frame there, and some lumber around back, and then built himself a handsome new house.
—Kevin Whitehead, Fresh Air with Terry Gross
Fresh Air Review
—Kevin Whitehead, Fresh Air
Critics Pick 2001: Chosen as one of the best records of the year.
—Jazziz
Clarinetist Biskin has a rare gift — he can create witty, sophisticated jazz with a light touch. His music is often complex, but his bands on this album spring each charming tune on the listener like a surprise party. This thoroughly enjoyable release achieves a delicate balance between serious musical qualities and lightheartedness.
—Ed Hazell, Jazziz
Imagine Weill oom-pah and the Stravinsky of l'Histoire du Soldat crashing into the Armstrong Hot Five on the parade ground or in the saloon. Rhythms march this way and that, fox-trot into a chair, climb the walls. All eminently swinging and unfailingly tuneful.
—Jon Garelick, Boston Phoenix
Andy Biskin's effervescent quintet slams neo-Dixieland, Jimmy Giuffre-esque chamber jazz, and Raymond Scott-inspired zaniness together and still finds plenty of room for inspired improvisation and offbeat composition.
—The New Yorker
An excellent clarinetist with a light, appealing sound, Biskin writes charming tunes that bring cool jazz into a more contemporary dimension, defined by juxtapositions that combine everything from polkas to Stephen Foster. His new album, Dogmental (GM), is one of the most pleasantly idiosyncratic of the year.
—Gary Giddins, Village Voice
Most jazz groups live or die by the quality of their soloists. This quintet consists of good young players, but their focal point is Biskin's pen. He's got a nice way with a tune, crafting arrangements with flair and spinning melodies that grab you as they go by. Often he'll work with a concise range of intervals, turn them around and upside down, then change speeds, stop time, or sit on a riff.
—Art Lange, Pulse
These fine players do a deft high-wire act, walking the tightrope between chamber music and jazz. The pieces are by Biskin, and lovers of both idioms will find much to enjoy in them. Biskin's interesting mind is revealed in lively and attractive melodies, piquant harmonies, intricate counterpoint, and interesting formal structures. Wry and funny yet skillful and serious, Biskin's music reminds me of Satie, Milhaud, Stravinsky's Soldier's Tale, and small-group jazz.
—Barry Kilpatrick, American Record Guide
A wonderfully assured debut by composer and clarinetist Andy Biskin, whose writing and playing are a nicely matched set. Both utilize a casual ease that evokes the clean lines of cool jazz, but with more wit and warmth. The woody resonance of the clarinet gives the music a very human bearing, and it is that dimension of character that makes this album so compelling. At times clownish, and at other times melancholy, sullen, surprised or coy, Biskin imbues his songs with a solid core. There is a subtle grandeur to be found here, again and again.
—David Greenberger, Signal to Noise
One of my hidden treasures from the class of 2000 is clarinetist Andy Biskin's delightful debut disc, Dogmental. Album executive producer Gunther Schuller congratulates Biskin in his liner notes by commenting that "Humor in music is rare commodity." Indeed, the clarinetist's music is humorous — all the more remarkable because he pulls the jesting off without resorting to horseplay and harlequin. But what makes Dogmental such a strong outing aren't the laughs, but Biskin's compositional acuity and willingness to engage in pure ensemble play.
—Dan Ouellette, Schwann Inside
Like Don Byron, Marty Ehrlich, and Chris Speed, Andy Biskin's clarinet explores a thoroughly modern music. This is circus music, piano-less and at times like vintage Ornette Coleman's two-horn frontline emulating the give and take of a New Orleans ensemble. Biskin proves that creative music can be fun and witty, even without the suspenders and funny hats.
—Mark Corroto, allaboutjazz.com
The phrase chamber jazz is bandied about in the Gunther Schuller-penned liners to the new Dogmental, but clarinetist Biskin plays enough havoc with early razzmatazz notions to waylay any old-fashioned sense of decorum. Humor helps in this regard, so does craft. The quintet driving this gig is guaranteed to make the already vivid piece even more animated.
—Jim Macnie, Village Voice
Andy Biskin has created fascinating work on this debut CD, mixing and matching elements from a century of American music. His sound is the traditional front line of New Orleans jazz, but his forms — including waltz and polka — come from elsewhere and anywhere. He mixes melodic echoes of klezmer, cool-school harmonies, and a polyphonic style that can suggest Mingus writing chamber music or the program music of Raymond Scott. It's all done with a sly, puckish wit, a sense of displacement that transforms the sometimes banal sources with an original sensibility, akin to Charles Ives or Carla Bley.
—Stuart Broomer, Amazon.com
A twisted postmodern take on Dixieland aesthetics, this always entertaining recording by a brainy clarinetist and composer is a gem. Biskin's smarts have attracted a group of New York's most engaging new players, including Matt Wilson, Ben Allison, and Ron Horton, who add immeasurably to the unconventional success of the project.
—Steve Futterman, Barnes&Noble.com
Not only does Biskin's music achieve that perfect balance between structure and improvisation: it goes one step further. Biskin also pays considerable attention to the manner in which soloists are presented in the context of his compositions. Thus, both compositions and improvisations burn brightly. Dogmental veritably drips with soul and sauce. Biskin and his band invest this music with the effortless skill, warmth, humor and spontaneity that characterizes all truly great art.
—Dave Wayne, Jazzweekly.com
Think Lawrence Welk in hell.
—David McElfresh, Phoenix New Times
Reviews of "Goldberg's Variations"
Mr. Biskin's jazz score seems to emanate from the inventions. But he has also written themes and interludes that capture the wheels turning in Goldberg's mind as well as in his devices.
—Laurel Graeber, The New York Times
Fun, fun, fun!
—Jim Macnie, The Village Voice
Composer and clarinetist Andy Biskin takes cartoon music to a new level.
—Michelle Mercer, Time Out New York
In naming his recent suite Goldberg's Variations, Biskin pays homage to both the engineered elegance of Bach and the jazz age lunacy of Rube. Biskin has created computer animations of 12 Goldberg gag panels, setting the resulting cartoons to music. Between cartoons, the sextet performed Biskin's "Interludes." The difference in experience was palpable: The cartoon accompaniments are punchy with trombone bellows, clarinet bleats, and drum thumps anthropomorphizing into sound effects; the "Interludes" (especially "Hourglass") travel from Ellington élan to Rite of Spring dissonance, purveying a mood somewhat at odds with Goldberg's whimsy. There's humor in Biskin's music, but also something smoky and dark: the insouciant collisions within urban culture that gave rise to modernity.
—R.C. Baker, Village Voice