Not So Fast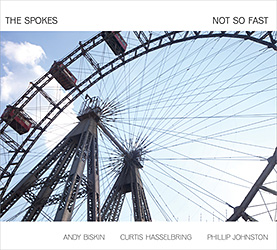 strudelmedia smcd-012
Not So Fast
The Spokes
This is guileless, charming, and entertaining music that will make you feel a little better about the world. —John Shand, Sydney Morning Herald
The Spokes is a unique wind trio co-led by three composer/instrumentalists, who each have a distinctive musical personality and diverse history on the New York music scene: Andy Biskin (clarinet), Curtis Hasselbring (trombone) and Phillip Johnston (soprano saxophone). All three compose for the group with their own personal approach, but their music is linked by a lyrical sense of melody, a wry sense of humor, and a distinctive, idiosyncratic compositional voice.
On this debut recording, The Spokes channel influences from early 20th-century chamber music, New Orleans jazz, Third Stream music, Civil War brass bands, and contemporary classical idioms, all delivered with wit and agility (think Jimmy Giuffre's trios, Debussy's chamber pieces, or Raymond Scott's horn section). Also influential are the many groups led by the composers in their individual careers, such as The Microscopic Septet, Trio Tragico, The New Mellow Edwards, Fast 'N' Bulbous, and Decoupage.
—Read more Not So Fast press clips here.